Do you agree?? I do think the recent Adidas ones would also make the cut………….what say ye?
via Best West Ham Shirts of All Time? – Football Shirts News
Best West Ham Shirts Of All Time?
West Ham United have had a number of smart looking football kits in their illustrious history – with each shirt bringing various levels of success to the club. From the 1964 FA Cup-winning shirt to last season's jersey that saw Slaven Bilic's men reach the Europa League, the Hammers have inspired their supporters and many will look back on some of the following outfits with fond memories. Check out our favourite West Ham kits below.
1999-2001 Home Shirt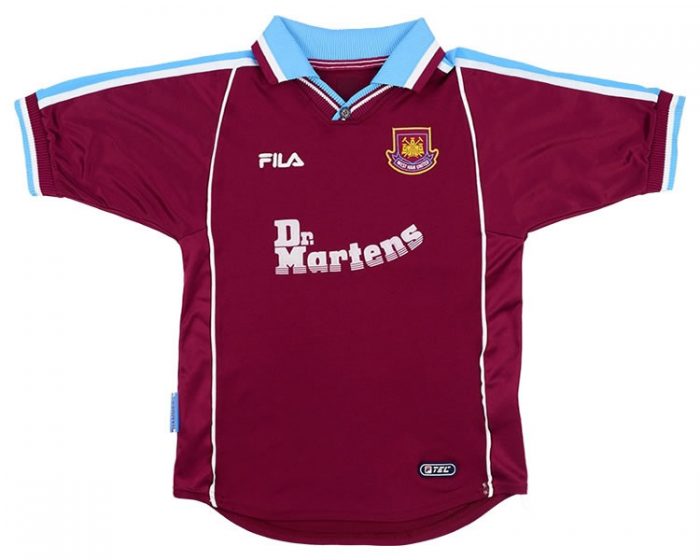 Remember Paolo di Canio's glory days as a Hammer? Many will recall this tidy-looking shirt from the end of the 90s, and this is the first of three Premier League era jerseys that make this list. Ultimately, the Hammers never really achieved much whilst wearing this kit. But, it will live long in the memory as one of West Ham's best designed shirts.
With sponsors including FILA and Doc Martens, this was one of West Ham's more fashionable outfits and the likes of Di Canio and fellow fan favourite Trevor Sinclair were fortunate enough to don the jersey on a weekly basis. Di Canio supporters in particular will remember his famous volley against Wimbledon in this particular kit. Who could forget it?
1903-05 Home Shirt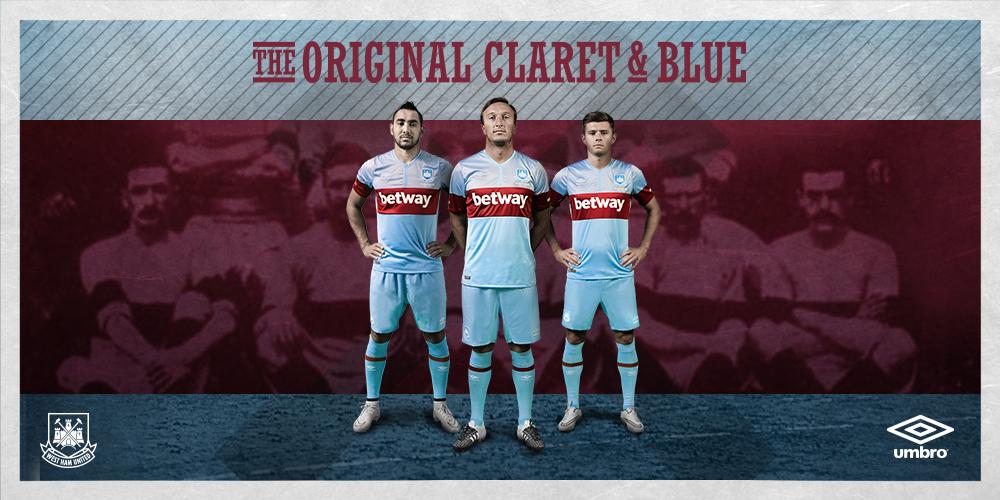 In 1903, West Ham decided to change from their predominantly blue strip into a claret and blue outfit; colours that have stuck with them throughout the years. It isn't as well-known as some on this list but it remains one of the most iconic jerseys, and fans shouldn't forget about this retro, traditional-style outfit.
Imagine the Hammers playing in a full blue shirt nowadays? It is almost impossible to think of West Ham wearing anything other than claret with blue sleeves. The 1903 jersey isn't one that is regularly seen at home fixtures but collectors will almost certainly own one of these fine-looking strips in their extensive West Ham sets, West Ham's long-standing history shows just how important the move to claret and blue was.
Home Jersey 2015-16
West Ham's kit last season was widely regarded as one of the smartest and sleekest in the Premier League. It will go down in history as the club's final jersey in the Boleyn Ground era and plenty of fans took the opportunity to purchase the kit ahead of their move to the London Stadium, otherwise known as the Olympic Stadium.
This season, West Ham haven't quite lived up to the hype but their jersey came close to making this impressive list. As of November 14th, the Hammers are 17th in the table but Bilic's men have lost just once in their last five games. Betway, West Ham's current sponsors, are offering 5/2 for the Hammers to turn their form around and finish in the top 10. At the very least, their shirt almost certainly ranks in the top half of the Premier League; even if it doesn't quite live up to last year's one.
Away Shirt 2010-11

It wasn't the luckiest kit in the world, but it was certainly one of the smartest. Hammers fans donned this particular jersey in their numbers on the road that season. With two sleek strips of blue and claret across a glistening white shirt, West Ham's colour scheme was coordinated and clear for those old-skool supporters who wouldn't want the club to sway from their traditions.
The Hammers won just two games all season in that strip, but it didn't dampen spirits at Upton Park – you still see away supporters wearing this shirt today. Macron, the main designers of the kit, did an exceptional job and this was arguably their finest jersey during their sponsorship stint. One of the most impressive aspects was the badge; the famous West Ham coat of arms in gold embroidery – b-e-a-utiful.
What kit is your favourite Hammers kit?