How awesome is this!
I love the Dodge RAM truck series as it just sums up the brash world of the US&A. Big, loud and irrelevant – it doesn't get any better pick up wise.
Bruder produce some fantastic stuff. We have a Sprinter and a MAN TXG within the toy box and they have taken an absolute hammering. Been drawn on, dropped and doors have come off. But easily fixed back on (apart from the Driver's door of the Sprinter which was properly snapped off and no amount of Epoxy Resin could save it). Well, this is what happens when you buy stuff made in Germany.
They have opening parts and I know that the Jeep Rescue has working suspension which all adds to the realism. Add to this, that this is a truck that can now be seen on the roads these days so the wee person can relate to them.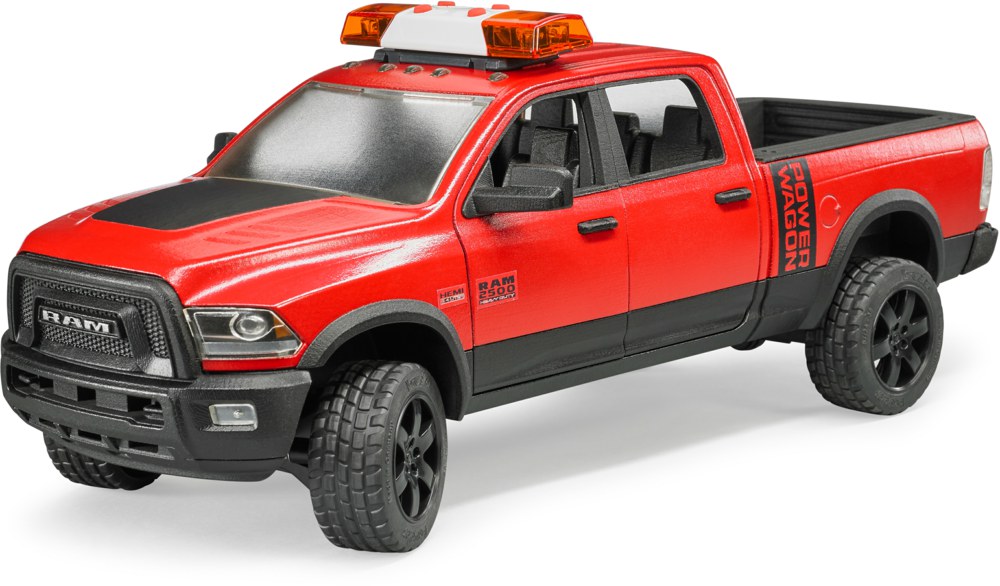 They are awesome, quality toys and this one goes for about £42. But whilst this is not a collectable scale, I think I want this to find its way into the Garage.
Official blurb is below:
RAM 2500 Power Wagon

Highlights


drivers cab:
– doors can be opened

automotive body:
– Space for pallets/pallet cages or other cargo on the loading area
– tailgate can be opened

chassis:
– spring-loaded front and rear axles with 4 steel strings
– incl. removable drawbar coupling

common:
– Recommended age: suitable from 3 years upwards for playing indoors and outdoors
– manufactured from high-quality plastics such as ABS
– Compatible with figure
– Made by Bruder
– Scale 1:16


Description

In the true sense of the word, the RAM 2500 Power Wagon is a heavy-duty pick up truck by RAM Trucks. Its durability and off-road capabilities are legendary and unique to this day. This vehicle is also very impressive in terms of output. Its V8 HEMI engine produces 410 BHP and generates a torque of 582 Newton metres. This powerful vehicle with striking Power Wagon design has now been added to the BRUDER range. Just like the real thing, the toy features a crew cab with four doors. All doors open to accommodate four bworld figures. This model at a scale of 1:16 features suspension on both axles to provide ride comfort and off-road capability. In this context, the front axle can be steered using the included steering wheel extension. The tailgate opens to transport loads and the loading area provides space for BRUDER pallets, pallet cages or straw bales (accessories 02415/02342, not within the delivery scope). The optionally available light and sound module (accessory 02802) can be installed after having opened the sunroof to further enhance the fun.