As expected, the TLV Neo version of the Evo Lancer re-generates into further iterations of the car. August 2019 sees the inclusion of the Lancer GSR Evo V, which is a logical addition to the range since the Evo 4 was announced a few weeks back.

But this is really what caught my eye: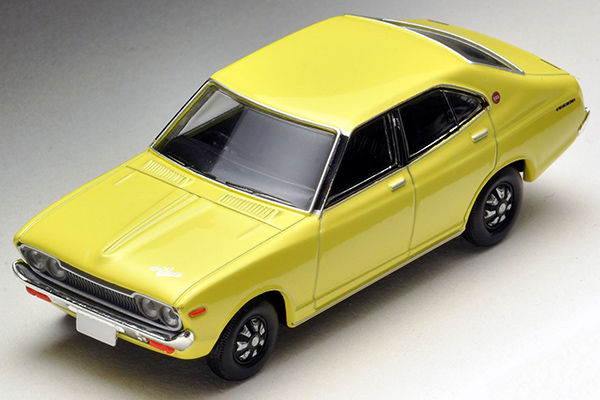 The Datsun Violet is one of those cars that should be revered, but long forgotten about. I am pleased that Tomica has developed the existing casting into this SSS version.

LV-N188b Violet 1600 SSS (Yellow)
Release date: August 2019 

Price: 2,400 yen (excluding tax) 
Scale: 1/64 


60th anniversary of the birth of Bluebird

● Semi-tore's foot = chassis newly produced

● Also pay attention to the fineness of coloring

2019 is also the 60th anniversary of the birth of Datsun Bluebird along with the 15th anniversary of TLV.

Call of the famous car The third generation 510 Bluebird, which has a high reputation, will be handed over to the new model "violet" 710 after the end of production in 1972.


The Violet, which appeared in January 1973, appeared as a car that wrapped the 510-type transfer mechanism in a curvilinear body line like a 70's Nissan car.

It was exported to all countries of the world under the name of Datsun 140J and 160J, and it showed an activity in rally competition as well as its ancestors, with its high class and sturdiness.

TLV-NEO commercialized the 1400 deluxe in 2008 and received a TLV-like model selection and praise, but will add a new variation for the first time in a while. We reproduce sports grade "SSS (3 S)" which inherited name from Bluebird this time. The rear suspension of the high-speed-oriented SSS will be Nissan's classic high-performance semi-trailing arm type mechanism. This time, I made a new chassis and carved an SSS suspension.

The body line is, of course, one that you want to see even if you turn it over.

TLV Website